CoolTone Vs. CoolSculpting: Choosing a Fat Sculpting Treatment
Finding the best available option might seem overwhelming if you're in the market for body contouring. Some treatments focus solely on reducing excess fat, while others build muscle and even skin texture. And you probably hear different recommendations, making it hard to figure out what is right for you.
When it comes to body contouring, CoolSculpting has always been in the chat. But it's no longer the only option. There are now newer, potentially better, treatments to choose from.
Two of the most popular options are CoolTone and CoolSculpting. It's common for people to confuse the two because their names are similar, and both are from Allergan (which might sound familiar as they also produce Botox). Both are highly effective, which is why so many people choose them. However, they do not work the same, and because of that, they achieve different results.
Targeting Fat Cells Vs. Muscle Tissue
The most significant difference between CoolSculpting and CoolTone is what each treatment focuses on. Both use a wand-like device similarly, but CoolTone's design targets muscle tissue. CoolTone develops muscle mass, sculpting and firming the treatment area to enhance areas of the body rather than slim.
CoolSculpting reduces fat in a specific area for visibly slimmer results. It's the favorite non-surgical alternative to liposuction, providing similar results without anesthesia, incisions, or downtime.
You might already be at or near your goal weight, but toning up is challenging. The gym can only provide so much, and sometimes the results simply aren't there. CoolTone can help with that. Or, you're committed to a healthy lifestyle, but certain areas stubbornly refuse to slim down. CoolSculpting can help with that. You can safely combine the treatments to target fat reduction and muscle building effectively.
How CoolSculpting Eliminates Stubborn Fat Pockets
CoolSculpting is the #1 fat reduction treatment. It is a popular alternative to liposuction because it reduces stubborn fat cells without invasive surgery. CoolSculpting uses a scientific process known as Cryolipolysis for freezing fat cells.
During treatment, the bulges of fat are subject to controlled cooling. This freezing process causes fat cells to harden and rupture. The fat cells can no longer do their job at this point, so they process out of the body as waste. As your CoolSculpting session finishes, your provider will gently massage the treatment area to help promote lymphatic drainage. There is no downtime necessary with CoolSculpting.
Once the fat cells are gone, they can never regrow, which is how CoolSculpting provides long-term results. Of course, that does not mean you can't still gain weight back. CoolSculpting removes only so many fat cells – there are still cells left in the treatment area that can expand. Maintaining a healthy and active lifestyle is essential to continue seeing transformative results.
You can always choose multiple CoolSculpting sessions to help boost results as you continue to eat well and exercise.
Multiple CoolSculpting Treatments
Many patients choose to schedule more than one CoolSculpting appointment for optimal results. If you decide on CoolSculpting, leave about 16 weeks between sessions to let the first round of Cryolipolisis work on the body. It takes time for results to show with this treatment. Each session provides up to 24% fat reduction, but the body needs to process and drain the dead fat cells.
There are many options for using more than one CoolSculpting treatment to boost results in the long term. Some try one session, give it several years, and return for another. This situation could be where you had one CoolSculpting treatment when you were younger, had a child, and are now looking to shed some fat. Others wait a bit between sessions but schedule them consecutively to maximize results.
It is possible to overdo it with CoolSculpting. If you have too many treatments, the area can look indented. That's why finding a trustworthy provider is crucial – the right one will help you establish a safe treatment plan, letting you know whether another session will help or hinder your progress.
CoolSculpting Before and After*
CoolSculpting works best on men and women who live healthy, active lives but still struggle with stubborn fat bulges. To be an ideal CoolSculpting candidate, you should already be within 10 pounds of your goal weight. There should be enough fat to pinch and hold onto, but not too much, as CoolSculpting is not a weight loss treatment.
As you can see from the below images, CoolSculpting reduces fat cells in notorious problem areas like:
Lower abdomen
Love handles
Inner and outer thighs
Upper arm fat
Depending on your goals, there is also a specific applicator known as CoolMini, which effectively targets double chins.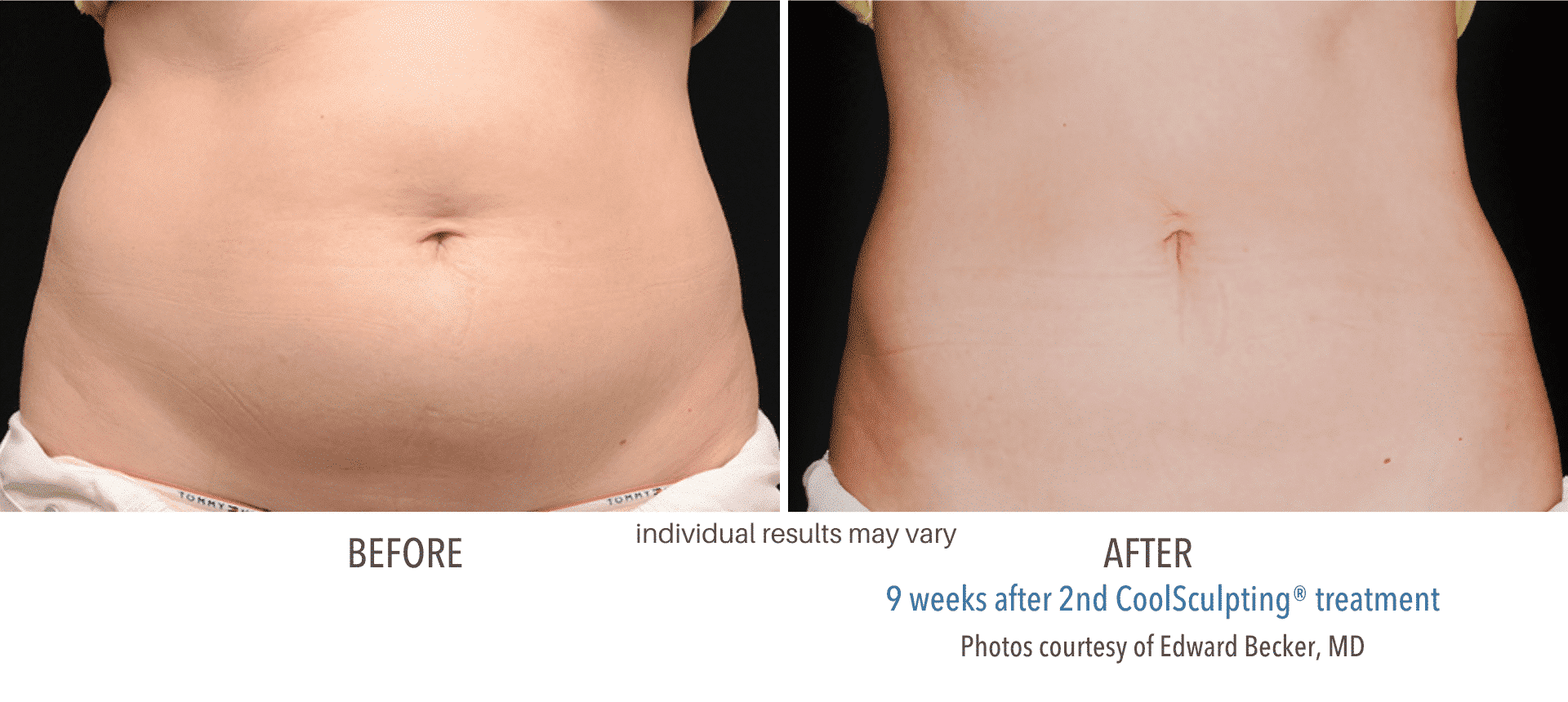 View more CoolSculpting before and after photos if you're still curious. Since everyone's body is different, it's interesting to see various results and imagine how your body might look post-treatment.
Whether you choose to eliminate unwanted fat through CoolSculpting first or are already near your goal weight, don't forget about the muscles! Toning up will help provide you with well-rounded results.
How CoolTone Builds Muscle Mass
CoolTone is a muscle-strengthening treatment that helps strengthen and firm your muscles. This treatment uses a magnetic muscle-stimulating machine that induces powerful muscle contractions.
One treatment can cause 20,000 supramaximal contractions. That's the equivalence of doing 20,000 squats, crunches, etc., to try to target an area. It's not physically possible to achieve these results on your own. The contractions help build and strengthen the abdomen, buttocks, and leg muscles.
After your session is complete, it's normal to feel fatigued. You'll likely feel as though you just hit the best gym session of your life the next day, but there is no recovery time necessary with CoolTone. You're free to get back to your routine right away.
Multiple CoolTone Sessions
Most patients see the best results with four treatments – two per week for two weeks. Then, maintenance appointments are typically every three to six months after your initial sessions are complete.
Of course, your treatment plan is entirely customizable with any reputable provider, meaning you can choose what will work for you. Some individuals don't find it necessary to schedule several sessions, while others prefer the transformative powers of each treatment building on the last one. CoolTone results are more temporary, making it easier to control treatments and ensure they don't go too far.
CoolTone Before and After*
This treatment is most suited for healthy men and women close to reaching their ideal body shape. The results of CoolTone are most apparent when not obscured by body fat.
Can You Use CoolTone and CoolSculpting Together?
Yes! Many patients choose to combine CoolTone and CoolSculpting treatments for more dramatic results strategically. They are known as sister treatments because they complement each other well. It's best to treat unwanted fat first with CoolSculpting and then tone that area with CoolTone.
For example, CoolSculpting will reduce belly fat, allowing the underlying muscles to show through when treating the lower stomach. Following this with CoolTone will further strengthen and tone the stomach muscles to give you hard abs. CoolSculpting magnifies CoolTone results and vice versa.
Another benefit of combining the body contouring treatment is the package deals with reputable medical spas. When done together, patients can save money on their overall treatment costs.
CoolSculpting and CoolTone Near Me: Reduce Fat & Build Muscle in Strongsville, OH
If you want to learn more about CoolSculpting and CoolTone package costs and potential savings, contact Dōcerē to schedule a complimentary consultation. You will speak with a treatment specialist during your consultation and learn everything you need about body contouring.
Our specialists will help determine if either of the treatments suits you. We can also help customize the perfect plan and package to help you save money and reach your goals. Whether you're considering one treatment or bringing them together for the best of both worlds, you've found the right place.
We are a premier body contouring treatment provider in the Strongsville area. You are welcome to bring any questions and concerns to us to find a solution together. Contact us at (440) 238-3331.
*Keep in mind that results vary with any cosmetic procedure. A consultation with a provider you trust will help you get clarification on the results you can expect based on your current concerns. What you can expect will depend on the treatment, the number of sessions, and how well you maintain your results.
SCHEDULE A COMPLIMENTARY CONSULTATION
Schedule by phone at 440-238-3331 or fill out the online consultation request
by submitting this form you agree to be contacted via phone/text/email.
Important Safety Information
CoolSculpting® is FDA-cleared to treat visible fat bulges in 9 areas of the body. Some common side effects include temporary numbness, discomfort, and swelling.
CoolTone® is FDA-cleared to strengthen, tone, and firm the abdomen, buttocks, and thighs. Common side effects include muscle, joint, or tendon pain, muscle spasm, and skin redness.