by submitting this form you agree to be contacted via phone/text/email.
Skin Care for Men
Not only is men's skin hairier but it's also oilier, thicker, renews itself faster and suffers from unique sensitivity issues thanks to shaving. Men have some of the same issues as women and may be prone to more severe cases of acne, sun damage and irritations caused by ingrown hairs, razor burn or inflammation of hair follicles due to shaving.
At Docere, our services and treatments are tailored to meet the unique grooming and skin needs of men.
Gentleman's Facials
Our gentleman facials are personalized to your individual skin needs using organic skin care lines to cleanse, exfoliate, nourish, and hydrate the skin. Includes cleansing, steaming, face and neck extractions, fruit acid peel exfoliation, and moisturizing. Finish with an eyebrow trim for a finished look. Keep your skin looking and feeling great with these skin care services tailored to the specific needs of men. We can help with dry, sensitive skin, acne breakouts, razor burn and inflamed hair follicles. All our facials include a complimentary eyebrow trim your significant other will appreciate!
Oxygen Jet Peel
Skin is cleansed and steamed with a mask to soften skin and open pores. Blackheads, whiteheads, and other under skin oils are then manually extracted. Our 60 minute Acne Facial comes with a fruit acid peel, which is applied to kill bacteria, sanitize the skin and loosen debris. An Oxygen Jet Peel treatment can be added to facilitate healing of more inflamed breakouts.
Acid Peels
Organic fruit acids are used to kill bacteria and exfoliate. The skin is left with a smooth, clean feel and a beautiful healthy glow. Peels help prevent breakouts by removing the dead skin cells that litter the surface of the skin blocking pores and causing it to look dull. They're also great at lifting stubble in preparation for shaving and are an effective way of preventing painful ingrown hairs.
Jet Peels
Pure oxygen and a saline solution are used in an exfoliating and revitalizing treatment. Oxygen plumps fine lines and heals the skin as it kills bacteria leaving a cool clean feeling. This treatment is super hydrating and healing for dry, sensitive skin and promotes healing of razor burns and inflammation of ingrown hairs or pimples. Cystic Acne is lessened with Jet Peels as oxygen penetrates to the deeper layers and reduces inflammation while killing bacteria.
Microdermabrasion
If you are ready for more aggressive exfoliation, Microdermabrasion may be for you. Aluminum oxide crystals are used as an intensive exfoliant to even and smooth skin texture, remove dead skin cells and encourage new cell growth. Another great treatment for ingrown hairs and razor bumps and helps refine old acne scars.
Body by Docere for Men
Coolsculpting for Men
Not loving your "love handles"? Options available to help chisel the man's body. FDA cleared to treat Flanks or "love handles", abdomen, inner and outer thighs. Coolsculpting non-surgical fat reduction technology gently and effectively targets the fat cells underneath the skin while leaving the skin itself unaffected. Controlled cooling to eliminate stubborn fat that resists all efforts through diet and exercise.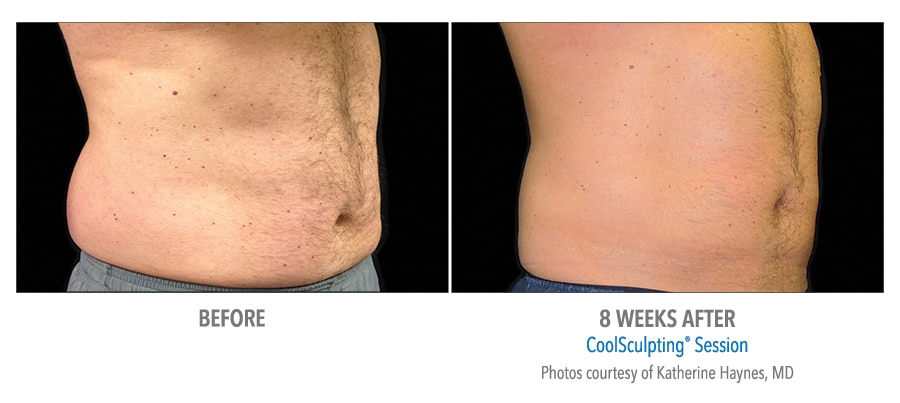 Hair Removal
Docere offers the latest in laser hair removal for lasting results without shaving. We've got some great alternatives with permanent reduction results for men who have suffered from inflamed hair follicles on the face, neck, back or chest. Docere offers the best pricing in Northeast Ohio!.
Laser Hair Removal
Light energy is delivered through the skin and absorbed by the melanin in the hair shaft raising the temperature and permanently reducing hair growth. Docere offers packages for every part of the body including full back, chest and shoulders.
Electrolysis
Electrical current is delivered to each individual hair follicle permanently prohibiting hair growth. This is an option for small areas on the face or neck.
Massage
Swedish Massage
The most common type of massage, it includes long strokes, kneading and friction techniques on the more superficial layers of the muscles, combined with active and passive joint movements to promote general relaxation, relieve tension, improve blood circulation and range of motion.
Deep Tissue Therapy
Deep tissue therapy releases the chronic patterns of tension in the body through slow strokes and deep elbow/ forearm pressure to concentrated areas, either following or cross fiber to the grain of the muscle, tendons and fascia. Its focus is on the deeper layers of muscle tissue.
Medical Aesthetics for Men
Injectables
This is one of our fastest growing services for men. Injectables offered by our doctors include:
Botox 
Medical grade injections reduce the contraction of the muscles that cause persistent fine lines and wrinkles around the eyes and forehead.
Juvederm
A smooth consistency gel made of hyaluronic acid that helps add volume and hydration. Juvederm is injected under the skin to instantly restore your skin's volume and reduce deeper facial wrinkles and folds.
Restylane
This revitalizing medical grade dermal filler composed of hyaluronic acid is used to help in the reduction of the appearance of fine lines and wrinkles.
Voluma                                                                                                                                                        Corrects age related volume loss in the cheeks
Ultherapy for Men
Give your skin a lift without surgery. Ultherapy is the only FDA-cleared procedure to non-invasively lift the eyebrow, neck, under chin and chest using micro-focused ultrasound. Using safe, time-tested ultrasound energy to lift and tighten the skin naturally ¬- without surgery or downtime. Ultherapy gently heats the underlying tissue and as a result, stimulates production of new collagen while gradually lifting and creating definition.
Laser Skin Treatments
Decades of golf got your skin looking under par? We have advanced technology packages that eliminate pigmentation damage caused by the sun and age, loose sagging skin, and to improve texture. Visit for a free consultation to discuss your needs and learn more about these outstanding packages:
Laser Packages
Two different laser technologies are used to decrease dark pigmentation, increase collagen production, and improve the texture of the skin. And, not incidentally, take years off the age of your face. At Docere, we evaluate each person's individual needs and can recommend Combination Packages based on desired results.
IPL Laser Rejuvenation
Laser technology removes brown and red pigmentation through a process called photo rejuvenation. Using pulsed broadband light, imperfections are gently heated and eliminated, giving your skin a more youthful appearance.
Pixel Laser Skin Resurfacing
Skin resurfacing laser that creates thermal channels causing collagen to rebuild, the skin to tighten, and texture to improve. Excellent for softening acne scars and fine wrinkles.
Docere offers the latest in non-surgical aesthetics including lasers, ultherapy, peels and injectables. Our clinicians can help you achieve a healthier, younger looking you! Not sure what's right for you? Our consultations are free. We never over promise and will never recommend something that's not right for you. We'll present your options and work on a plan to meet your interests and budget. And, if surgery is the best choice, we coordinate a free consultation with Dr. Ray Seballos, Docere Plastic Surgery.
by submitting this form you agree to be contacted via phone/text/email.
by submitting this form you agree to be contacted via phone/text/email.