by submitting this form you agree to be contacted via phone/text/email.
CoolTone in Strongsville for Stronger and More Sculpted Muscles
CoolTone is a revolutionary advancement in non-surgical body-contouring technology that specifically targets a major component of the body: the muscles. Distinct from other body-contouring treatments such as CoolSculpting, which only reduces fat, the CoolTone procedure makes use of electromagnetic power to tone, firm, and strengthen muscles of the stomach, glutes, and legs.¹ The results are natural-looking and long-lasting, giving women and men alike an excellent option for completely changing their bodies for an overall slimmer and more sculpted physique.² CoolTone far surpasses any workout one could achieve in a gym. Dubbed "the Superman workout", just a single 30-minute session of a targeted muscle group is comparable to 20,000 contractions!² This procedure has been cleared by the FDA and has been clinically verified as safe and effective.¹ There is minimal to no downtime and patients may continue their regular daily routine right after the procedure.³ Keep reading to find out more about getting an all-new toned physique with CoolTone or book a free consultation at Dōcerē Medical Spa, a premier body-contouring clinic in Strongsville, OH. Contact Dōcerē online or by calling
440-238-3331
today.
Advantage of CoolTone with Dōcerē
Builds, tones, and strengthens muscles
Get defined, sculpted abs
Tones and lifts upper legs and glutes
Non-invasive option for a butt lift
FDA-cleared and clinically proven as effective and safe¹
Quick and minimal pain 30-minute sessions
No surgery and minimal to no downtime
Stimulate 20,000+ ultra-strong contractions
CoolTone is twice as strong as competitors⁴
Sessions by the leading body-shaping spa in Strongsville, OH
CoolTone Before and After*
CoolTone before and after images can show potential patients the dramatic body transformation that can be achieved via ultra-strong stimulation of the abs, glutes, and legs. As with all cosmetic treatments, individual experiences and results can vary.* But the following images depict actual patients who received this very technique sensitive treatment from a skilled and reputable provider.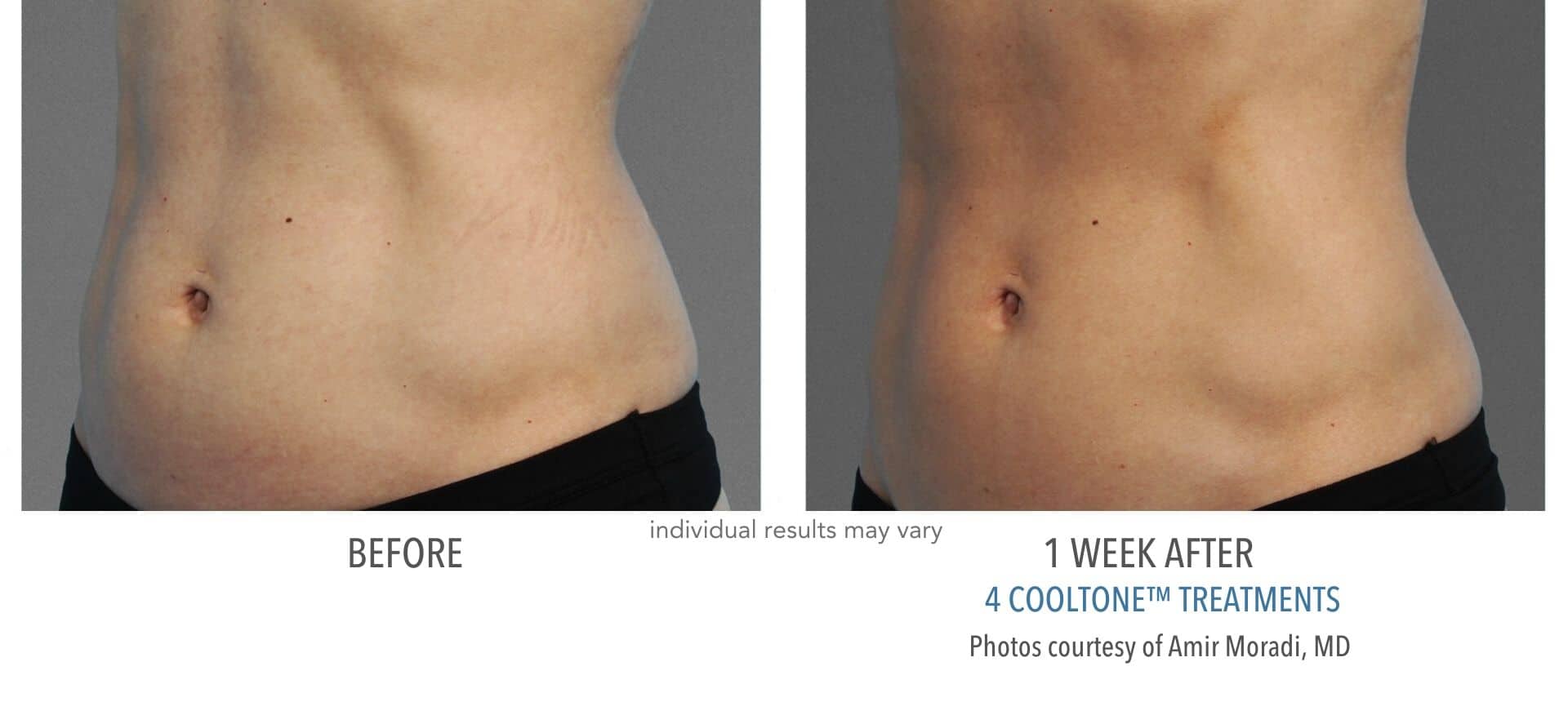 Whenever we exercise, we generate contractions in our muscles. When performing crunches, lunges, or squats, the contractions develop muscle gradually in the abs, legs, and glutes. The CoolTone procedure triggers this same muscle-strengthening activity with the use of innovative Magnetic Muscle Simulation (MMS) technology. Throughout the CoolTone procedure, a high-powered coil applicator focuses electromagnetic energy onto the desired muscle area. The energy current minimal pain infiltrates the muscle, stimulating fine motor nerves inside the muscle fiber. The ensuing electrical current activates slow-twitch and fast-twitch fibers, stimulating contractions within the fibers on supraphysiological (or superhuman) levels. Referred to as supramaximal contractions, they far outpace any contractions one can induce physically in a gym.¹ Just a single 30-minute CoolTone session can stimulate over 20,000 contractions in the treated muscle area. What results is much stronger, more toned, firmer abdomen, glutes, and legs as well as an overall more defined and muscled body.²
How CoolTone and CoolSculpting Can Work Together
When it comes to body-contouring procedures, a majority of them only focus on fat reduction. The world's number one non-surgical fat reduction procedure is
CoolSculpting
, a pioneering fat-freezing technology that uses state-of-the-art cooling technology to reduce diet-and-exercise resistant fatty deposits. But fat reduction is just one part of the equation when it comes to full body transformation. Muscle plays a huge role in the overall shape of any given physique and that should not be overlooked. For example, on average, fat makes up about 15-20% of the body's entire composition. Muscle is often double that! The average woman's body composition is 36% muscle, while the average man's body composition is 42%. These facts are why Allergan, developers of CoolSculpting, also created the CoolTone procedure. Combining these two procedures can offer women and men a true way to totally change the overall appearance of their bodies, not just reduce fat.³ All achieved non-invasively with minimal to no downtime!
How Much Does CoolTone Cost?
CoolTone prices are dependent on the specific considerations of individual treatment plans. Factors that influence the final cost include the area treated and the number of sessions needed to reach a patient's desired results. CoolTone prices are gone over in detail during the free consultation at Dōcerē Medical Spa. If this treatment is a good fit for you, our team will help determine a treatment schedule that matches both your body-contouring goals and your budget.
Currently, CoolTone is FDA-cleared for strengthening and toning muscles in the abdomen, buttocks, and legs.
Scientific CoolTone Reviews
Patient reviews for CoolTone have been resoundingly positive. In addition to this, several scientific reviews on this body-contouring treatment vouch for its efficacy and impressive safety profile. In the
Journal of Cosmetic Dermatology,
a CoolTone review entitled "Safety and efficacy of a novel high-intensity focused electromagnetic technology device for noninvasive abdominal body shaping," reported that nearly "91% of patients reported their abdominal appearance improved and 92% stated they are satisfied with treatment results at month 3."² Additional data that was reported during the
39th Annual Conference of the American Society for Laser Medicine & Surgery
(ASLMS) ⁴, body-sculpting treatments utilizing intensely focused electromagnetic devices had the following results:
Subcutaneous fat shrank by 27.4% after 6 months
Fat layer reduction of 7.73mm
Muscle thickness growth of 19%
Ab separation (diastasis recti) decrease of 10.46%
CoolTone Side Effects and Safety
CoolTone has been FDA-cleared as a safe and effective non-surgical body-shaping procedure. This procedure has been lauded by researchers for its lack of adverse effects. However, CoolTone patients can expect some mild soreness within the muscle areas treated for one to two days post-procedure. The soreness is comparable to what one would feel after an intense workout.¹
Most patients find the best results with a treatment schedule of four sessions, with two or three days in between them. Generally, patients start to see visible musculature improvement within two to four weeks after completing the full treatment and can improve continuously up to six months post-procedure.* Individual results and experiences may vary.*
CoolTone Near Me in Strongsville, OH
If you are ready to totally change your body into the sculpted, firm physique you have always wanted, consider Dōcerē Medical Spa. As Strongsville's leading body-contouring clinic, Dōcerē's compassionate and knowledgeable staff is dedicated to patient experience and results. Contact us today online or at
440-238-3331
to book your free consultation!
by submitting this form you agree to be contacted via phone/text/email.
by submitting this form you agree to be contacted via phone/text/email.
Sources
¹ "High intensity focused electromagnetic therapy evaluated by magnetic resonance imaging: Safety and efficacy study of a dual tissue effect based non‐invasive abdominal body shaping."
Lasers in Surgery and Medicine.
2018.
Link.
² "Safety and efficacy of a novel high‐intensity focused electromagnetic technology device for noninvasive abdominal body shaping."
The Journal of Cosmetic Dermatology.
2018.
Link.
³ Review of the Mechanisms and Effects of Noninvasive Body Contouring Devices on Cellulite and Subcutaneous Fat.
Journal of Endocrinology and Metabolism.
2016.
Link.
⁴ * Data on file.
Disclaimer **CoolTone® is FDA-cleared to strengthen, tone, and firm the abdomen, buttocks, and thighs. Common side effects include muscle, joint, or tendon pain, muscle spasm, and skin redness.