by submitting this form you agree to be contacted via phone/text/email.
CoolSculpting® Elite Strongsville, OH
Body Contouring with Cryolipolysis: Fat Freezing Technology
CoolSculpting is the most popular way to reduce stubborn fat without harming surrounding tissue or needing surgery. With little-to-no downtime, this revolutionary body contouring treatment utilizes controlled cooling to freeze away fat that resists diet and exercise.
Dōcerē Medical Spa and Laser Center, the premier CoolSculpting provider in Strongsville, OH, now features the updated body sculpting experience with CoolSculpting Elite. FDA-cleared and more powerful than ever, this 35-minute treatment leaves natural and lasting results.
Find out more by scheduling a complimentary consultation today!
Difference Between CoolSculpting & CoolSculpting Elite
Using the same powerful, fat-freezing technology as before, the Coolsculpting Elite's redesign includes two new features: Dual applicators and advanced applicator shapes.
Dual applicators now allow for treating multiple areas and more fat cells, getting you closer to your final results in fewer visits.
CoolSculpting Elite Machine Offers the Best Body Contouring
The CoolSculpting Elite machine's applicators have been updated with a new C-cup shape to curve around the body's surface. This detail now allows for more suction, more even cooling, and additional contact with tissue.
Some of the areas patients commonly target with CoolSculpting Elite include:
CoolSculpting Elite Before and After*
These are real Dōcerē Medical Spa and Laser Center patients showcasing their CoolSculpting Elite before and after pictures.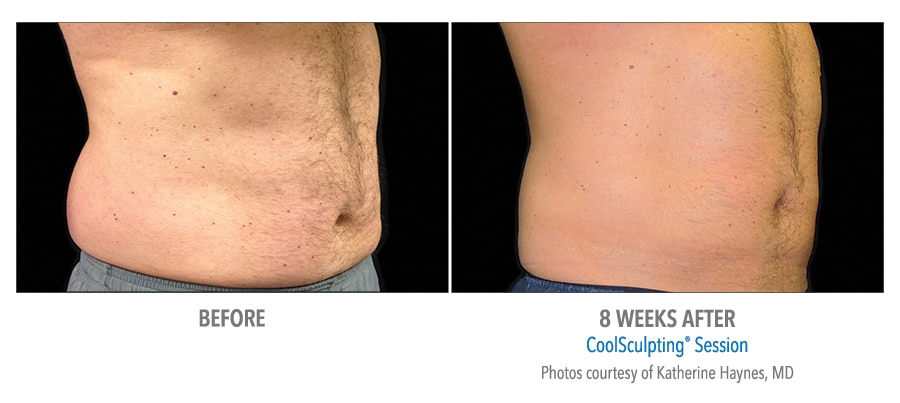 *As with any cosmetic treatment, results vary from person to person. Don't hesitate to reach out to our team if you'd like to learn more about individual CoolSculpting results you can expect.
How CoolSculpting Works: The Science of Fat Freezing
Losing up to 25% of unwanted fat in specific areas may sound too good to be true, but Cool Sculpting works. It's just a matter of science.
During treatment, the CoolSculpting machine exposes a stubborn bulge to precisely controlled cooling via applicator pads. These applicators freeze underlying fat cells without harming the overlying skin or surrounding tissue. The frozen fat cells crystallize, which causes them to rupture before the body gradually releases them.
Cryolipolysis: Frozen Cell Apoptosis
Once permanently disabled from storing fat, the frozen cells undergo apoptosis. This is the biological process of cell death and removal.
Over the span of a few months, the lymphatic system collects the frozen fat cells and processes them out of the body. This process is scientifically known as cryolipolysis ("Cryo" = cold + "lipo" = fat + "lysis" = cell death and removal.)
Long-Term Body Sculpting Technology
CoolSculpting Elite Results
If you are looking for a non-surgical solution with a short treatment time, CoolSculpting may be right for you. After treatment, the lymphatic system will process the dead, frozen fat cells out of the body as a form of waste.
This natural excretion takes place over several weeks. While individual experience may vary, it's common that patients report results in as little as four weeks after their first treatment. For most patients, CoolSculpting Elite results take 8 to 12 weeks to emerge fully.
Since the body doesn't replace these frozen cells, patients get to enjoy lasting fat reduction as a result of this fat-freezing treatment. It is important to note that patients should follow a healthy diet and exercise routine afterward. Gaining weight may obscure the fat-freezing results.
Choosing the Right CoolSculpting Provider
Like any cosmetic service, CoolSculpting is a technique-sensitive treatment. This means that the skill set of your provider heavily influences your experience and overall results.
That is why discerning patients who value experience, expertise, and integrity choose Dōcerē Medical Spa and Laser Center as their preferred CoolSculpting Elite provider in Strongsville.
CoolSculpting Elite Body Sculpting in Strongsville
At Dōcerē Medical Spa and Laser Center, not only do we prioritize the welfare and interests of our patients above anything else, but our expertise in fat-freezing technology is unparalleled in Ohio.
Our state-of-the-art facility, equipped with the latest technology, includes a full line of applicators and two machines. In addition, our technicians are extensively trained at CoolSculpting University and have performed thousands of treatments, offering unmatched proficiency in the area of non-invasive body contouring.
If you are ready for a slim, sculpted physique, get started with CoolSculpting at Dōcerē Medical Spa and Laser Center: Call (440) 238-3331.
CoolSculpting Reviews from Real Dōcerē Medical Spa Patients
by submitting this form you agree to be contacted via phone/text/email.
*Must purchase 8+ treatments for 50% off.
by submitting this form you agree to be contacted via phone/text/email.
*Must purchase 8+ treatments for 50% off.
DISCLAIMER
**CoolSculpting® is FDA-cleared to treat visible fat bulges in 9 areas of the body. Some common side effects include temporary numbness, discomfort, and swelling.
*Promotions: We offer multiple CoolSculpting promotions 50% off the purchase of 8+ treatments. Terms and Conditions apply. Offers cannot be combined with any other promotion. 
* 18% more area coverage with CoolSculpting Elite applicators: the clinical significance of this data has not been established