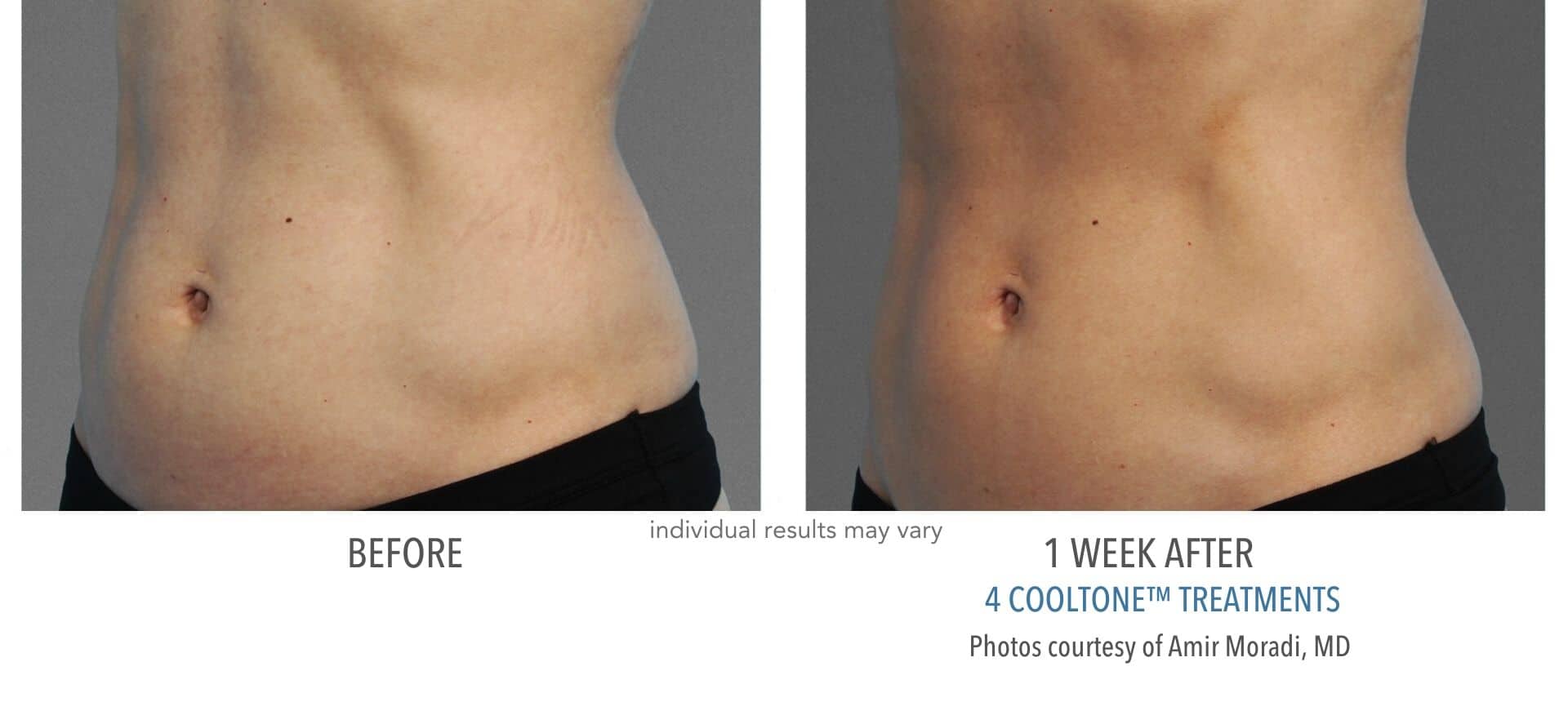 CoolTone Before and After | Real Patient Results
CoolTone before and after pictures are excellent for women and men who are considering this body contouring treatment. The same genius makers of CoolSculpting (the fat freezing treatment) developed CoolTone. The most significant difference between the two? CoolSculpting reduces fat. CoolTone focuses on firming and toning the muscles to give you a more sculpted physique. Cleared by the FDA, this treatment is virtually painless and lasts as little as 30 minutes. Targeted treatment areas include the abs, glutes, and thigh muscles. The CoolTone before and after images show the results achieved by using this fantastic muscle-sculpting technology.
Look at the CoolTone before and after transformations and learn more about this body contouring treatment to discover if it is the right treatment for you.
CoolTone Before and After*
The surprising results seen in the CoolTone before and after pictures are real patients. The results are proof that being the right candidate for CoolTone and having your treatments completed by a skilled technician can leave you with phenomenal physical changes. As with any cosmetic procedure, results may vary per person. *
How Does CoolTone Work?
After you've seen the CoolTone before and after shots, you may start to wonder how this muscle-sculpting technology works. CoolTone uses electromagnetic energy that passes through the skin to penetrate deep within the muscle tissue. This energy works to stimulate the tissue, which causes a contraction action that is like the contractions achieved through physical exercise. The CoolTone contractions are known as "supramaximal contractions," which are much more powerful than manual contractions you can induce through exercise. 20,000 supramaximal contractions occur during one 30-minute CoolTone treatment! You could spend an entire day in the gym and still never reach that amount of muscle contractions manually.
CoolTone Target Areas
CoolTone is FDA cleared to target specific muscle groups in the body. This body contouring treatment can target the following muscle areas: abdominals to give you those washboard abs, the glutes to result in a firmer, lifted butt, and the upper legs for more sculpted thighs.
Related Article: CoolSculpting before and after images >>
CoolTone Before and After Results
As you can see from the CoolTone before and after results, the transformations achieved with this body contouring technology are unmatched. The results will typically begin to show within 2 to 4 weeks after your treatment. You will see an improvement in muscle definition and mass for up to 6 months after. Not only will you see more sculpted muscles, but this technology also helps to reduce fat in the targeted area. The electromagnetic energy used to contract the muscles will also metabolize the surrounding fat cells.
CoolTone Near Me | Strongsville, OH
If you're ready to find out if CoolTone is right for you and begin the process of achieving your CoolTone before and after transformation, Docere Medical Spa and Laser Center is the place for you. We have highly skilled technicians to conduct CoolTone treatments. You will receive a free consultation where you'll learn if you're the right candidate for this treatment, have any questions answered, and get the perfect treatment plan for your body, desired outcome, and budget! Contact us online or call (216) 446-8467 to schedule your consultation.
SCHEDULE A COMPLIMENTARY COOLTONE CONSULTATION
by submitting this form you agree to be contacted via phone/text/email.