Ultherapy Results in Strongsville
Ultherapy is a non-surgical skin tightening treatment that uses ultrasound energy to stimulate collagen production. Collagen is a natural protein in the skin responsible for tight and lifted skin. The treatment is safe, effective, and requires no downtime. You can resume normal activities right after the procedure. Ultherapy results can last up to a year on average. People may experience further lifting with additional treatments over time.
Need a solution to wrinkles, fine lines, sagging skin, and drooping necklines? Ultherapy could be the answer. Read on to learn about the treatment benefits, how it works, and the results you can expect.
 Painless treatment with no downtime
 A non-surgical procedure that does not require anesthesia
 Does not use chemicals to tighten the skin
 Safer than other anti-aging treatments because it does not involve incisions
 Reveals tighter, firmer, and more youthful-looking skin
 Improves the appearance of scars
 Stimulates the body's natural collagen production
This treatment works by stimulating your body's natural collagen production. Collagen is what gives structure to your skin, filling out wrinkles so they appear smoother and firmer. It also supports the underlying layers of tissue in your body—think bones, muscles, and blood vessels. So, when there is less collagen in one area, you may notice saggy skin. Ultherapy tackles this problem and offers many benefits.
Ultherapy Results & Effectiveness*
Ultherapy is a great alternative to a traditional facelift if you have mild to moderate sagging skin. It is FDA-cleared to treat wrinkles, lines, and folds in the face as well as loose skin on the neck. The treatment also improves the appearance of scars from acne, chickenpox, or surgery.
Ultherapy results gradually appear with no downtime after the treatment. Some patients may experience mild redness at the treatment site, but this subsides on its own after a few days. You will notice continued improvement over time as new collagen forms after each Ultherapy session. Just like any other aesthetic treatment, the results vary from patient to patient. * Many people enjoy Ultherapy skin renewal effects for up to a year.
Learn about the different factors that affect Ultherapy cost>>
Are you curious about what Ultherapy can do for your look? Check out the before and after images of our real clients. Patients notice firmer and younger-looking skin. As with any cosmetic procedure, personal results vary.
When searching for the best provider in your area, remember that not all specialists are equal. Choose a provider with a proven record of excellent results. This way, you receive top-notch care and get the most out of your Ultherapy investment.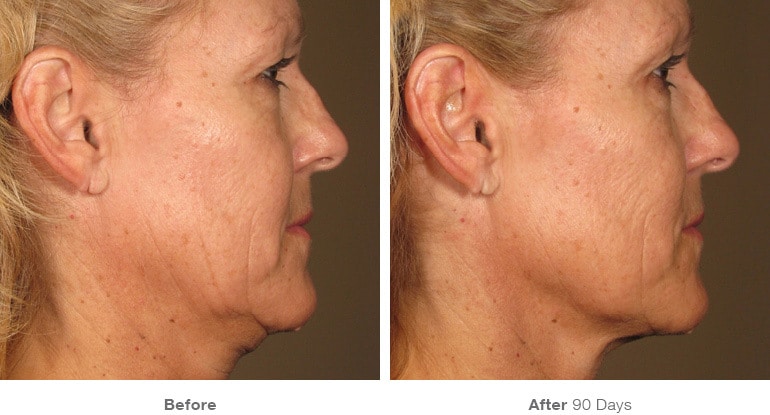 Choose Dōcerē Medical Spa and Laser Center for Ultherapy
Ultherapy is a non-invasive procedure that can dramatically improve your skin and facial features. Dōcerē Medical Spa and Laser Center is the leading Ultherapy provider in Strongsville, OH. People in the area trust us with aesthetic treatments because we deliver stunning results to enhance their natural beauty. Call us at (440) 238-3331 to schedule a free consultation. Learn more about Ultherapy and ask any questions you may have—our staff is here to help.
Schedule a free consultation
by submitting this form you agree to be contacted via phone/text/email.
Schedule a free consultation
by submitting this form you agree to be contacted via phone/text/email.
Jeffrey Viscomi, MD
Dr. Viscomi received his Bachelor's degree from the University of Dayton. He then went on to graduate from Wright State University School of Medicine in the top 10% of his class. Following residency at the Cleveland Clinic, Dr. Viscomi began his Family Practice in Strongsville and quickly became a nationally recognized leader in primary care for his unique practice model. Dr. Viscomi is a member of the Aesthetics Practice Association and has completed extensive training in the use of laser in aesthetic procedures.