Ultherapy Before and After
As we get older, it is inevitable for our bodies to produce less collagen naturally. This results in sagging skin and more wrinkles forming over the years. The good news is that Ultherapy, a revolutionary beauty treatment, makes it possible to tighten and firm the skin. Men and women choose Ultherapy because it is an effective non-surgical alternative to a traditional facelift. It penetrates the skin via ultrasound technology to encourage new collagen growth, which is vital for healthy skin. Ultherapy before and after pictures show what is possible with the procedure.
People no longer have to go under the knife to look their best. Our staff at Dōcerē Medical Spa and Laser Center prioritizes unparalleled patient care and delivers incredible results to enhance your natural beauty. Read on to find out more.
Ultherapy Before and After | Real Patient Results
See our patients' Ultherapy before and after pictures to get an idea of what it can do for you. They depict the treatment's ability to target various areas of the face and body and reveal a younger appearance. After the treatment, clients notice tighter and firmer skin.
Ultherapy uses gentle, non-surgical ultrasound technology to stimulate your skin's natural healing response and promote collagen production. This results in a rejuvenated look without the downtime associated with surgical alternatives. Though Ultherapy benefits are ubiquitous for everyone, personal results vary.
Ultherapy Before and After Pictures*
These Ultherapy before and after pictures show the incredible transformations the treatment can bring to a person's look. As with other cosmetic treatments, results vary per individual.* Our transformation photos show authentic results of our actual clients.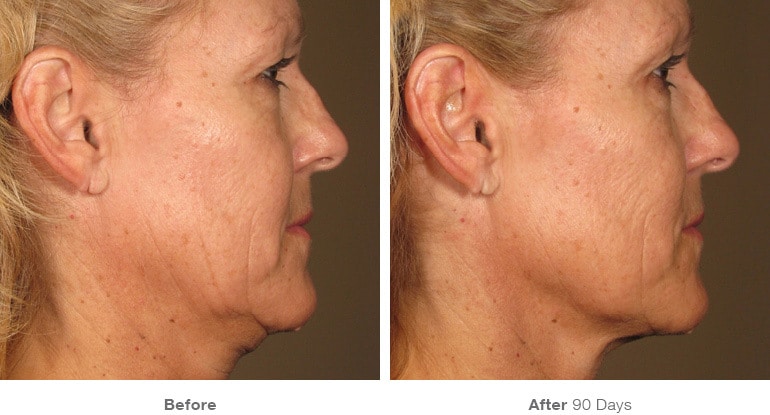 Ultherapy for Firm & Tight Skin
Getting old is a part of life, but we can take some measures to tighten the skin and feel more attractive. Deep wrinkles and saggy skin can be a serious damper on one's confidence. Does this sound like you? Do not worry, because you are not alone. Ultherapy may be able to help you love the skin you are in again!
Ultherapy is an FDA-cleared skin lifting treatment that relies on ultrasound energy to tighten and contour the face and body. It can treat the:
 Eyelids
 Forehead
 Brows
 Cheeks
 Neck
 Chest
 Underarms
 Abdomen
 Hands
This cosmetic treatment is suitable for most skin tones and types. The results are natural-looking. Most people enjoy Ultherapy skin renewal effects for one year before going in for more treatments. The length of time it lasts depends on how long it takes for your body to produce new collagen on its own. With that said, results are different for each person.
How to Get the Best Ultherapy Before and After Transformation
Are you looking for the best Ultherapy before and after transformation? Select a reputable doctor who can deliver results that meet your expectations. Be sure to follow aftercare instructions to achieve optimal results. Residents in the Strongsville, OH area trust Dōcerē Medical Spa and Laser Center for their Ultherapy treatments.
Get Your Own Ultherapy Before and After Photos
Look years younger and get your Ultherapy before and after photos. Call Dōcerē Medical Spa and Laser Center at (440) 238-3331 to schedule a free consultation. We are a premier Ultherapy provider in Strongsville, OH. Share your aesthetic goals, ask questions, and begin your Ultherapy journey with us.
Schedule a free consultation
by submitting this form you agree to be contacted via phone/text/email.
Schedule a free consultation
by submitting this form you agree to be contacted via phone/text/email.
Jeffrey Viscomi, MD
Dr. Viscomi received his Bachelor's degree from the University of Dayton. He then went on to graduate from Wright State University School of Medicine in the top 10% of his class. Following residency at the Cleveland Clinic, Dr. Viscomi began his Family Practice in Strongsville and quickly became a nationally recognized leader in primary care for his unique practice model. Dr. Viscomi is a member of the Aesthetics Practice Association and has completed extensive training in the use of laser in aesthetic procedures.